1
« on: June 06, 2016, 04:51:28 am »
Hello Producers! I've gotten into a button making hobby/ business with my bff. We use card art from various different TCGs and turn them into lovely buttons. We've collected Weiss cards from the Idolm@ster Movie set and Cinderella Girls TDs and Booster Set. I also had some misc cards from older Idolm@ster sets, so any Vision 1 Buttons (and non-Hibiki Idolm@ster 2 set buttons) are 1 offs at the moment. There will be a possibility of getting more singles from Japan
~*~*~*~*
BUTTON STATS
*~*~*~*~
+ 1.75 inch diameter
+ Mylar coating to protect against scratches/ general wear
+ Sturdy metal backing
~*~*~*~*
PRICING
*~*~*~*~
Normal buttons are $1.
Naturally foiled buttons (indicating that they were R or higher cards) are $2.
Custom Foiled Buttons are $1.50 (I cannot add foiling to buttons already made, but most of our stock has extra cards waiting to be turned into buttons).
Buy 4 get 1 FREE
~*~*~*~*
SHIPPING/ PAYMENT
*~*~*~*~
In the continental US shipping is $2.50 for 15 or less buttons (including free buttons)
International shipping is unfortunately super expensive, generally around $13. It will be handled on a case by case basis (feel free to PM me here on the forums or on
Facebook
) Probably the best way to make shipping less sucky/ expensive is to order with friends so ya'll can split costs.
Payment will be handled on Paypal, please direct money to bbqmorris@gmail.com
~*~*~*~*
STOCK
*~*~*~*~
PG 1 Project Fairy +Chihaya +Makoto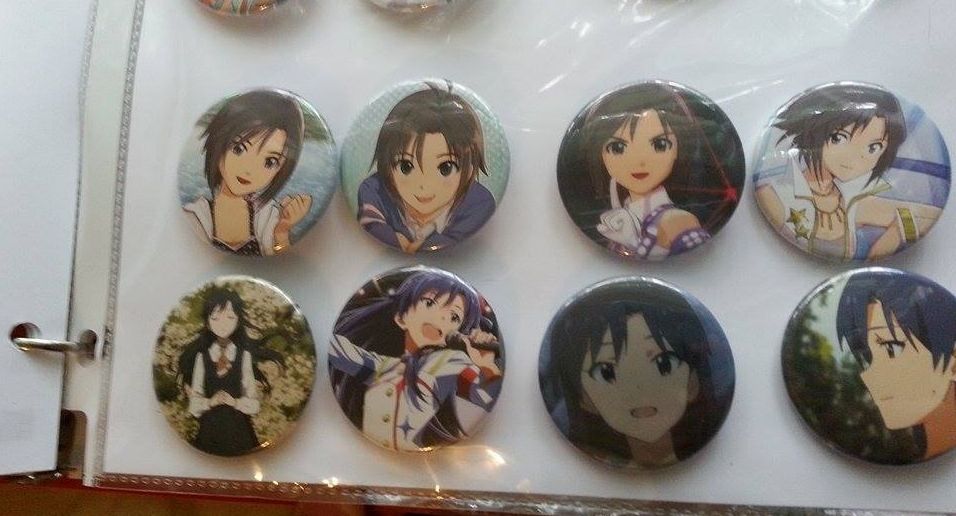 PG 2 Ryuuguu Komachi
PG 3 Yukiho, Yayoi, Haruka +Custom Foils and start of CG
PG 4 Cinderella Girls (Mostly Decoration)
~*~*~*~*
Insight on the Foiling (Click to see video
*~*~*~*~
Custom Foiling
Natural Foiling